Why choose Rah Raw?
Rah Raw is a small family-owned business who believes in providing quality raw pet food at an affordable price. We specialize in helping pet owners' transition from a kibble diet to a raw, natural diet. We value our customers and aim to please by providing outstanding customer service.
---
Quality
Our product list includes an assortment of meats locally sourced from the Midwest. We've formulated our own exceptional blends to provide a well-balanced diet for your pets!
Variety
Rah Raw has a wide range of products varying from whole animal parts to pre-made ground blends including beaver, beef, beef tripe, chicken, duck, lamb, pork, rabbit, salmon, sardines, and turkey. We continue to expand our product list to meet the needs of our customers.
---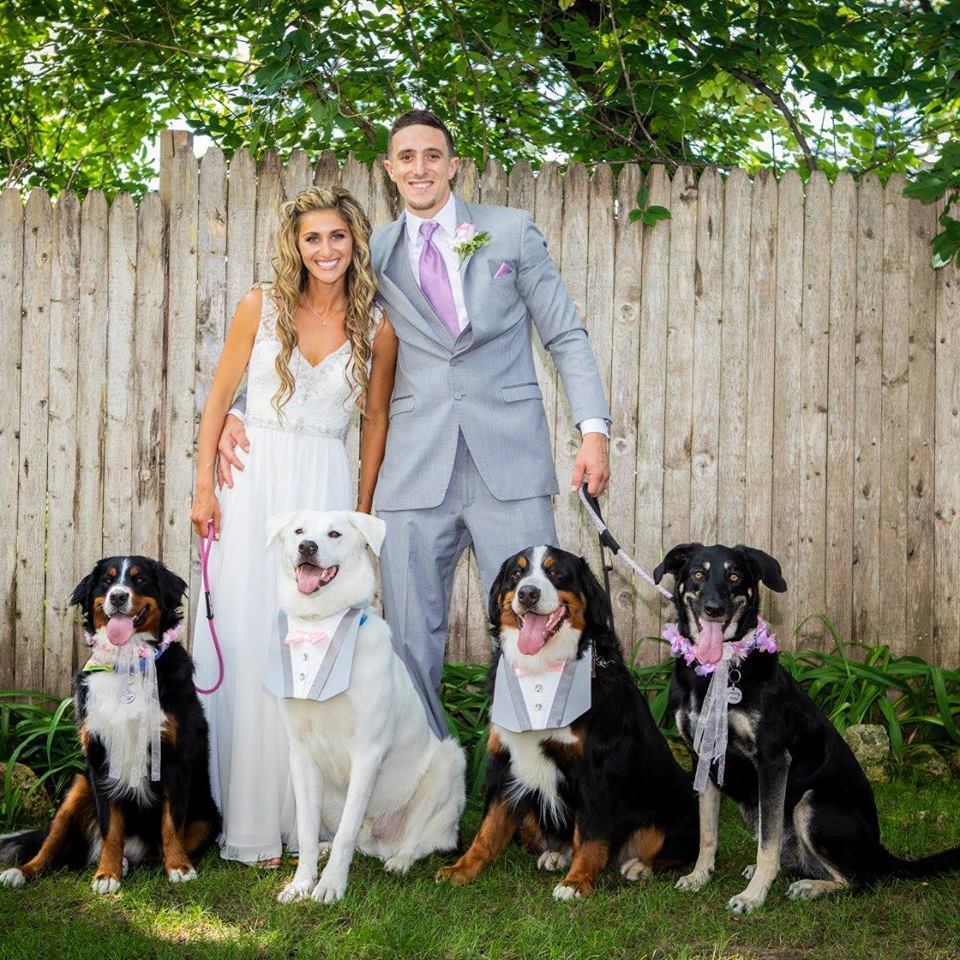 A note from Max and Megan:
We have always had a love for dogs. We both grew up having at least two dogs as part of the family. We currently have four dogs; Kiki, Nolla, Bronnie, and Robby. Max works full time for Rah Raw. Max's interests in life are both dogs and basketball. Megan is a second-grade teacher and loves working with kids every day. She loves dogs, education, and exercise. We both share a passion for the health of all animals and love helping others.
We have fed raw since day one with our first puppy, Kiki. We heard about raw pet food from Max's parents, who had amazing results from feeding their three dogs a raw diet.
When we got our first dog, Kiki, it was no question that we would be feeding her a raw diet. We started with feeding grinds of different meats and Kiki loved it. Kiki thrived on a raw diet and loved to eat every meal! We loved Kiki so much that we had to get her a baby sister. Nolla is a sweet, calm, good-natured dog and we adore her so much. She is a therapy dog and enjoys walks, trips to the dog park and sleeping on the hardwood floor! She led us to her full-blooded brother from another litter, Bronnie. He is a big goofball who enjoys snuggling, playing with Kiki, and hanging out in the bathroom!
Because of our friendly pack and all the dogs in need, we decided to start fostering through Coco's Heart Dog Rescue. This is where we found our fourth fur kid, Robby and fell in love. He fit in perfectly with our pack and we decided to make him a permanent addition to our family. Yes, we are Foster Failures. All of our dogs are happy to be a part of Rah Raw and love testing our products! Kiki, Nolla, Bronnie, and Robby are our fur kids and they truly are family.
— Max & Megan
---
About Rah Raw
We started Rah Raw because of our love and passion for animals. We want to share with others the benefits of feeding a raw diet. A lot of people we've spoken to had not heard of a raw diet or are not sure how to get started. We see how healthy our dogs are and want to help everyone make the switch to a natural raw diet for their pets. Our dogs have healthy shiny coats and get compliments on their bright white teeth. They are always excited to eat their next meal! We've had neighbors, friends, co-workers, and others asking us about our dogs; how we feed them, the benefits of raw, and wanting to know more to try it out. There weren't many easy ways to find, raw pet food companies in the area, so finding different kinds of meat was sometimes tricky. That's how the idea of Rah Raw began. Rah Raw's goal is to provide customers with the best natural raw diet, offer a variety of meats, and an easy, accessible way to feed your pet. Rah Raw specializes in helping pet owners' transition from a kibble diet to a raw pet food diet. We love to personalize for all pet owners and make you feel confident in feeding your pets.
Rah Raw is located at 11 1st St. NW, Osseo, MN right off Hwy 81 and Main Street directly behind Heinen's Motorsports and connected to Comfort Solutions Heating and Cooling.
— Max & Dave
---